Craig Wolfe was the president of Name That Toon where he developed the first ever animation/advertising art lines for Coca-Cola, Anheuser-Busch, M&M/Mars, Pillsbury, Campbell Soup, Hershey, and many others. The company grew to become the largest publisher of advertising/animation art in the world.
In 1998 he created Celebriducks which made the first ever celebrity rubber ducks of the greatest icons of film, music, athletics, and history. They have produced CelebriDucks for the NBA, Major League Baseball, the NHL, NASCAR, NCAA collegiate mascots, and numerous Fortune 500 companies. Their ducks have appeared on numerous TV shows including The Tonight Show, CBS Evening Magazine, and Late Night with Conan O'Brien and were voted one of the top 100 gifts by Entertainment Weekly. They have created over 200 different CelebriDucks and selling over a million ducks while pioneering a whole new collectible.
1. What made you take the entrepreneurial leap?
I never really enjoyed working in an office while doing something I wasn't really passionate about and for someone else, no less! For me, once I felt emotionally connected to an entrepreneurial venture, whether it was large or small, I knew there was no choice but to move forward. A business consultant, Carol Roth, shared a great quote from Winston Churchill who said "Success is going from failure to failure without losing enthusiasm." In truth, most great ventures had great setbacks, but over time became successful through the learning curve and passion of their founders.
2. How would you rank the following factors in determining a startup's success: Idea, Market, Team. Please explain.
When you have startup, the idea is absolutely key. More money is thrown after poorly conceived ideas that you could ever imagine. Next, It's really really important to study the market you are intending to serve and just as importantly get as much feedback from people you trust before you begin. And finally, surround yourself with the best team possible no matter where they reside as with outsourcing anything is possible today.
3. What is the hardest part about being an entrepreneur?
You're on your own, baby. You can't blame anyone for your lack of drive, insight, success, or lack of income. There is no steady paycheck. It's up to you to bring your vision to life. For some that's hard as laziness and bad ideas are not suffered lightly. There is no cushion to fall back on. So to be an entrepreneur you have to have a temperament that can deal with uncertainty and also one that can self-generate in any situation. And as an entrepreneur, you will be called to do just that in more ways that you could ever have imagined!
4. What is the most rewarding part of being an entrepreneur?
Passion for what ones loves and the creative process in and of itself is what drives all true entrepreneurs. You create what you love, in the way you want it created, and it's all yours with no-one to tell you what you can or cannot do. It is an amazing experience. I always say in my estimate, over 75% of the people wake up each day and wish they could be doing something different. An entrepreneur is doing what they love every day and thus going to work, rather than a burden, is an exercise in creativity, fun, passion, energy, and excitement for what lies ahead.
5. What's your advice for someone who is thinking about starting a business?
I do a lot of interviews in the media and I always tell every budding entrepreneur and small business owner that you are your brand that first and foremost when starting a business you have to set realistic goals and not try to own the world and your niche tomorrow. Patience is key!! So don't bankrupt yourself in the first year!
Also, you want to start by promoting your brand not yourself! Your branding of yourself is only as good as your brand. Thus you should always create a great brand and then the natural extension to promote yourself as the brand will happen organically. Promoting yourself first is not only a bit egoic, but has no substance behind it. Richard Branson with Virgin, Steve Jobs with Apple, etc….they all had the brand first and then personality naturally followed to become intrinsically intertwined with the brand at that point. So spend your money to intelligently build up your brand.
….and this is huge for new entrepreneurs….it's not how much money you make…it's how much you keep!….so overhead is key….it takes down more businesses that you can imagine. Hey, you can easily bankrupt yourself through ill conceived overspending…especially in technology, rent, and personnel!!
And finally, learn to responsibly outsource. You have to know what you can do and what you should not do and what is the best use of your time. And you have to become a master of communication when you do outsource. It's the key to making any business work. So bottom line, you really do have to have a great support staff no matter where they live, but you must know how to responsibly interact with them. Learn that and the sky is the limit!
Hatched in the USA! – Wall Street Journal
Rubber Duck Industry Returns to the U.S.
Name: Craig Wolfe
Business: CelebriDucks
Headquarters: San Rafael, Calif.
Industry: Consumer Manufactured Goods
Year begun: 1998
What was the challenge your business was facing as a result of the economy?
The Rubber Duck was invented in America. Now every one is made outside the U.S. Rising prices, longer delivery times and quality-control issues were becoming a major factor in working in China and threatening the company. We decided to bring the industry back to America to Ohio where it all began.
What was the innovative idea you put in place?
We were already the only U.S. company doing our artwork and sculpting here for rubber ducks. Now we were going to bring back the actual final production to America. Everyone said it was impossible with labor costs and safety-law requirements. We were willing to take the risk!
What significant milestone has this innovative idea lead to since Jan. 1, 2009?
We suddenly have companies and businesses lining up to get made-in-America ducks! Not only can we produce them in America, but we can do smaller production runs so more companies can have their own custom ducks made here. Plus our delivery times are now shorter, opening up so many more possibilities.
Please explain your innovation at greater length.
I was the largest publisher in the country of artwork from television commercials, creating the first ever animation art lines for Coca-Cola, Anheuser-Busch, M&M/Mars, Pillsbury, etc. The rubber duck, like jazz, is an American art form that originated here. Thus CelebriDucks was born as a side business where we created the first ever line of celebrity rubber ducks of the greatest icons of film, music, history and athletics. We felt we could take the level of detail in the sculpting and painting of rubber ducks to a whole new level and elevate the art form altogether. We were even voted one of the top 100 Gifts by Entertainment Weekly and thus sold off the animation business to concentrate on ducks!
Although the rubber duck was invented in America, over the years with all the outsourcing of our manufacturing, it got to the point where not one rubber duck was even made here anymore. In fact, we were the only U.S. company still doing our artwork and sculpting here. But I wanted more than that. I wanted to bring the whole industry back. And then something very unique happened.
We got a call from the Seiberling Estate. Seiberling was one of the original rubber companies in America and they went on to create Goodyear Tire. They also were one of the first ones to  create  rubber duckies! They are in Ohio where they offer tours of their beautiful estate. Back in the early 1930s, with the release of Disney's Snow White, Seiberling's director of marketing approached Walt Disney about becoming one of their first licensees and creating a line of rubber Disney characters including a rubber Donald Duck. They were tremendously successful.
When we started speaking to Seiberling, we all agreed that it would be an extraordinary story to actually create a rubber duck for them right back in Ohio where it all began. Our art department was already in Cincinnati. Our new factory was also in Ohio. So why not start to bring the whole industry back here. Seiberling was very excited and the joy of seeing it all come full circle not only to Ohio, but also to the actual place where it all began and create our first made-in-America duck for Seiberling and also for hundreds of other companies has become a reality!
And so we are currently in the process of making ducks here. It has been much more creative with costs and governmental laws, but we are doing it. To deal with the intricacy of our hand painting, the wife of the owner of the factory created a group of stay-at-home moms who are artists to form a painting cottage industry. Bottom line, I am so happy and proud to be able to bring this industry back here. May it be the first of many!
Millionaire Interview: Craig Wolfe – Founder of Celebriducks – Rubber Duckies that look like celebrities as seen on NBC, FOX, ABC, CNN, ESPN, TNT, VH1 and many more
Craig Wolfe – Founder of Celebriducks – Rubber Duckies that look like celebrities as seen on NBC, FOX, ABC,  CNN, ESPN, TNT, VH1 and many more
Audio clip: Adobe Flash Player (version 9 or above) is required to play this audio clip. Download the latest version here. You also need to have JavaScript enabled in your browser.
Right Click to Download the MP3
In this interview we talk to Craig about how his passion for unique art landed him a multi-million dollar company. He describes just starting out and working with large companies like Coca-Cola. He also discusses how Celebriducks does such an amazing job with PR and has been seen on NBC, FOX, ABC,  CNN, ESPN, TNT, VH1, A&E and was voted one of the top 100 gifts by Entertainment Weekly.
Check out Celebriducks.com to find out more from Craig.
Read the transcript.
Don't Let Work Make You Feel Trapped
By Liza Porteus Viana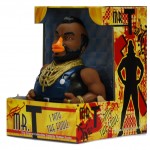 FOXBusiness
Craig Wolfe, who was featured in FOXBusiness.com's Small Office Home Office profile series,
got into the animation marketing business more than 20 years ago, working with large corporations such as Coca-Cola, Anheuser-Busch, M&M/Mars, Hershey's and Campbell Soup.
He ran his business from home then, and still does today, only now his business is of a slightly different nature. Wolfe went from animation marketing to designing and creating rubber ducks in the likeness of celebrities, such as baseball star Derek Jeter and comic Lisa Lampanelli, from his home-based company, CelebriDucks.
Although he got into the business with little relevant experience – a college degree in business and religion didn't help much in the animation business – Wolfe today is able to make a living doing what he loves. But, he said, didn't get here without a few bumps in the road.
Here are three tips Wolfe offers to anyone thinking of starting their own business.
No. 1: Remember: you are your brand; branding of yourself as an extension will only be as good as your brand.
So your top priority should be to build a great, strong brand, and the natural extension to promote yourself as the brand will happen organically. Promoting yourself first has no substance behind it. Think Richard Branson of Virgin and Steve Jobs of Apple – they had the respected brand first, the personalities later became intrinsically intertwined with the already-winning brands.
No. 2: It's not how much money you make, it's how much you keep! Paying attention to overhead costs is key; they take down more businesses that you can imagine.
No. 3: Know that you are never without options. It's easy to feel trapped when things aren't working out the way you hoped. But if you can see every misfortune or difficult moment as nothing more than another moment ripe with potential and realize that you can make something out of it, things happen, orders arrive, people call, and onward and upward.
"Never let your mind go into a space where you feel trapped," Wolfe said. "I don't know why they don't teach that in business school, because to me it is at the heart of every successful business venture that had to overcome adversity."