Be sure to check out our Snoop Dog Rubber Duck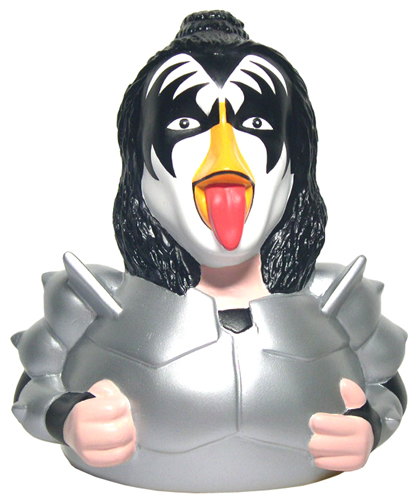 Kiss - Gene Simmons
Collectible Rubber Duck
Kiss is an American rock band formed in New York City in 1973. Easily identified by their trademark face paint and stage outfits, the group rose to prominence in the mid-1970s on the basis of their elaborate live performances, which featured firebreathing, blood spitting, smoking guitars, and pyrotechnics. Kiss has been awarded 45 gold albums to date. The group's worldwide sales exceed 80 million albums.
The original lineup of Gene Simmons (bass and vocals), Paul Stanley (rhythm guitar and vocals), Ace Frehley (lead guitar and vocals) and Peter Criss (drums and vocals) is the most successful and identifiable. With their makeup and costumes, they took on the personas of comic book-style characters—the Demon (Simmons), the Star Child (Stanley), the Space Man (Frehley), and the Cat Man (Criss). Due to substance abuse problems and creative differences, both Criss and Frehley were out of the group by 1982. The band's commercial fortunes had also waned considerably by that point.
In 1983, Kiss abandoned their makeup and enjoyed a commercial resurgence throughout the rest of the decade. Buoyed by a wave of Kiss nostalgia in the 1990s, the band announced a reunion of the original lineup (with makeup) in 1996. The resulting Kiss Alive/Worldwide Tour was the top-grossing act of 1996. Criss and Frehley have since left Kiss again, and have been replaced by Eric Singer and Tommy Thayer, respectively. The band continues to perform, while Stanley and Simmons have remained the only two constant members.
Gene Simmons was born Chaim Witz , (born August 25, 1949 in Haifa, Israel), better known by his stage name he is an Israeli-American hard rock bass guitarist and vocalist. He is best known as "The Demon", his blood-spitting, fire-breathing, and tongue-wagging persona in the hard rock band.

This one of a kind - Gene Simmons KISS Celebrity Rubber Duck is a must have for any collector or fan of KISS. A Unique gift that will be treasured forever.

$11.99