9/5/23
Greetings from our duck world!  I am happy to say that we have a new container just about here due to arrive around mid-September. Then we have another container arriving in November if all goes well.  The one in September will have a lot of sold out ones plus the new Joliet Drake and our Wing of Fire affectionately known as a Toy Name Sue.  This shipment will also have more Blue Suede, the return of our beloved Birdo Marsh, the Godfeather, Bohemian Quacksody, Duckin, The Duckinator, The Wicked Witch of Oz, Jurassic Quack, Born to Sun, and Purple Waves.  We don't have huge quantities on any of them so they will all eventually sell out, some sooner than others.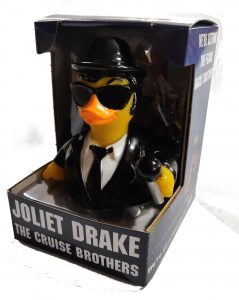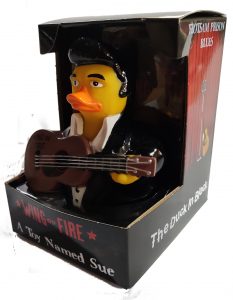 This shipment also has on it Harry Ponder, Peckin 9-5, Captain Quack Mallard, The Floating Stones, The Donald, and Paddle like it's 1999,  but they pretty much sold out before the boat even landed.  But we are re-making them and expect to have The Donald and Peckin 9-5 back in this November and the other styles this Winter . In that Winter container, I also hope to have Incubating with Da Eggy and Pond Jovial, Swimmin' on a Prayer.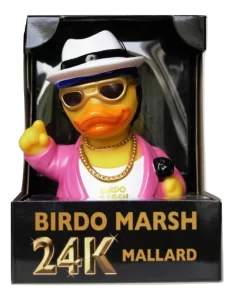 On the November container, we will have our fantastic Steamboat Ducky which we will tell you more about as we get closer.  It will also have some styles that we have really been looking forward to getting here which should do great such as Patos Sun Tana, ZZ Flock, Ducky Style, Tail-rr – Splash It Off, and Say Hello To my Lil' Friend.
And of course in the midst of this we have a tremendous number of custom jobs for people everywhere that we'll continue to post on our Facebook page….some amazing things!
As always, call or write me any time with any questions.  Yes, we answer the phone, return calls, and actually enjoy speaking to our friends.  Have a wonderful Fall…
Sincerely,
Craig Wolfe
President
CelebriDucks
530-446-5231
CelebriDucks.com
7/18/23
Greetings from the land of ducks. I hope you are having a nice Summer and things are well.  I wanted to update you as to what is happening in our world.  I was hoping to have our new container get here before the end of August, but it won't actually arrive till around mid-September. earliest.  Very sorry for the delay, but it will be so worth it….we cannot wait!!
We will get in many sold out ducks plus new ones retuning such as Harry Ponder, Duckin, The Donald, Blue Suede Duck, Say Hello to my lil' Friend, Bohemian Quacksody, Birdo Marsh, Wing of Fire (Toy Named Sue), Purple Waves, The Duckinator, The Godfeather, Peckin' 9-5, The Wicked Witch of Oz, Captain Quack Mallard, Jurassic Quack, Paddle like it's 1999, Joliet Drake, and The Floating Stones.
Then I am hoping to get in one more container before the holidays with ZZ Flock, Patos Sun Tana, Tail-rrr-Splash it Off, Ducky Style, Beak Loaf- Bath out of Hell, Born to Sun and our Steamboat Duckie which will be in the container, but only available to ship January lst. More on that later!
I am thinking that our new Pond Jovial – Swimmin' on a Prayer and our Incubating with Da Eggy will be here early Winter.  Our wholesale prices had a slight increase of .25 after a long time, and I hope this will hold for a while.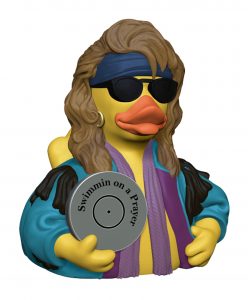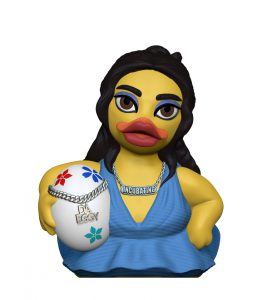 Our custom work continues to explode with new work coming in non-stop, and our retail line keeps selling out so even with the biggest shipping containers we can find, we cannot make or ship fast enough to keep up.  I'm hoping a bit of the backlog will be better going into 2024, but we'll see.  Unfortunately, I think when the new containers get here, we will already be sold out of some of the ones that are currently in stock….and so it goes.
I hope you keep cool in these hot Summer days and look forward to hearing from you.
Sincerely,
Craig Wolfe
President
CelebriDucks
530-446-5231
CelebriDucks.com
3/15/23
Hi again.  I don't think I've ever written so soon after I had just sent out a newsletter, but thought best to update folks with more news.  So yes, our new shipment actually arrived and we are getting orders out this week.  Unfortunately, we sold out of The Donald before we even unloaded the container….that was a first.  But we were able to fulflll a good amount of the orders for him. And many other styles are already getting a quite low.  So just giving everyone a head's up.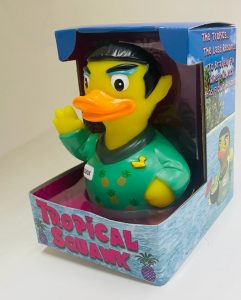 We also got in:  Bohemian Quacksody, Blue Suede, On the Pond Again, Material Bird, Say Hello to my lil' Friend, One Pond, The Material Bird, Paddle Like it's 1999, Harry Ponder, Goosebusters, Quackodile Flock, The Love Float, Limited Edition Tropical Squawk, Duckin', Spa Wars, Breaking Bath, Peckin 9-5, The Godfeather, Ziggy StarDuck, and Sargent Peepers.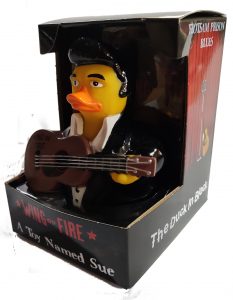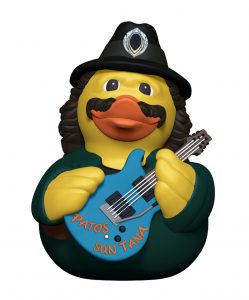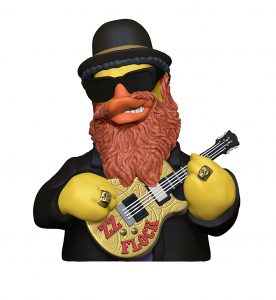 I am still hoping to get The Wing of Fire, Birdo Marsh, The Duckinator, Captain Quack Mallard, Purple Waves, The Wicked Witch, Joliet Drake, and some others plus more of The Donald  here June/July.
And then we have Patos Sun Tana, Beak Loaf, Bath Out of Hell, and ZZ Flock hopefully coming in this Summer.  I am also pushing to get Ducky Style – Watermelon Waddle, and our Tail-rrr, Splash it Off here for the holidays if at all possible. The interest in these are, as you can imagine, really really high!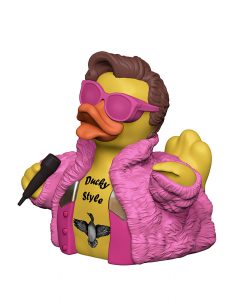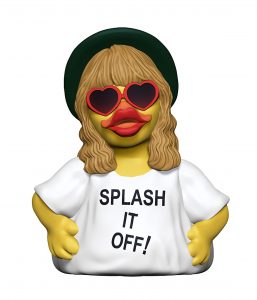 Maybe we have too many ducks now in the line and need to slow down?  We keep selling out and are really having trouble supplying everyone  as our line keeps expanding, we are getting more and more customers, and our custom work for companies all over the world also keeps growing. But as I always say, glad people love the ducks!
I wish you all the best and if you have any questions or comments, please call or write any time.
Sincerely,
Craig Wolfe
PresidentCelebriDucks
530-446-5231
www.CelebriDucks.com
1/12/23
Happy New Year from  CelebriDucks where we are getting a LOT of rain here in California along with some flooding.  I look out on the lake and the ducks are loving it!  As is the case these days, we keep selling out of things at a brisk rate and it is still taking more time that we would like to get them back in stock and get our new ones here.  We still have many good ones, but a number of those are also getting low.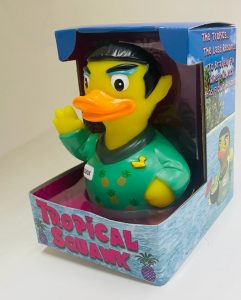 We are about to ship our new container filled to the brim with ducks which will have our new Tropical Squawk and Love Float along with many returning styles such as:  Goosebusters, Harry Ponder, Spa Wars, Duckin, On the Pond Again, Pond Bombshell, The Donald, Sargent Peepers, Quackodile Flock, Blue Suede Duck, One Pond, Material Bird, Say Hello to my lil' Friend, The Godfeather, Bohemian Quacksody, Ziggy Starduck, and Peckin' 9-5.
Also, for all your Jeep fans, our Duckin Jeeper parody will be in on there which you can order from our client Michelle at rubberduckyworld.com.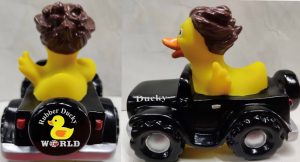 Then in June/July, we'll get Joliet Drake of The Cruise Brothers, and our Wing of Fire (a Toy named Sue) plus the return of The Wicked Witch, Birdo Marsh, The Duckinator, Purple Waves, The Floating Stones, Born to Sun, and Jurassic Quack.  And for all your Fanilows out there, our Barry Manilow CelebriDucks that we creating just for Barry and his fans will be available on their website and at his shows.  We are also working on our Beakloaf, Bath out of Hell, and a few other surprises that I won't mention quite yet.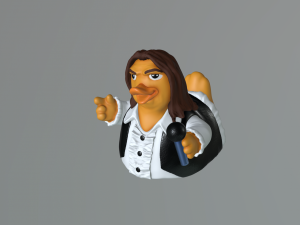 I actually thought this upcoming container would be here January, but as our Give Geese a Chance duck says, "life's what happens when you're busy making other plans!"  Our factory is just buried with all our work and there was no boat coming to the West Coast which is a shorter ship to our warehouse in Akron by boat and train.  Thus we had to go through New York and this takes longer.  "Serenity Now!" I just do my best to roll with it as there is so much out of my control these days.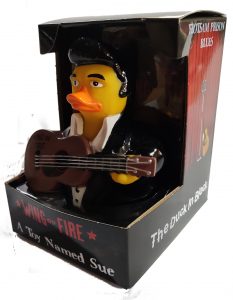 All this makes me think, as we keep experiencing all this growth and expansion, that I truly hope someone calls me one day to make an offer to take over the reigns here.  I definitely feel the need to train the next generation and pass the baton, and trusting that at the right time, that special someone or company will appear.  I deeply love this business and we have so much fun with it, but I am also working on music and book projects and hey, there is only so much time…..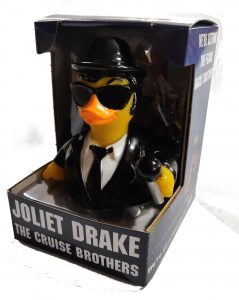 We are also looking to find more artists to help us keep up.  It's a very specific skill to sculpt rubber ducks and make sure they float and mold correctly and they must have the artistic talent to blend the duck with the celebrity.  I am excited about some of the people we are speaking with and invite anyone to contact us if this is their skill set and interest.  You would be working with our resident master artist who overseas the creation of our line.
For now, we are holding our wholesale pricing to stores, but it could go up .25 when the new shipment comes in, nothing major, but not quite sure what we'll do at this time.  I know many stores have advance orders they already sent us to ship when the new container arrives, but do feel free in early March to contact us to update your order if necessary.
Europe continues to expand with us shipping more containers over there and now we have folks representing us in Taiwan which is great.  It was easier to ship to Taiwan out of our current container coming to the US which did lessen even more the amount of ducks that are arriving here, but we should be ok for a little while….I hope!
Our custom work for companies continue to grow and we are now doing three variations of the Peanut's Woodstock for the Knott's theme parks plus Deluth Trading is having us create their angry beaver (from their TV commercials) for retail.  And we continue to do work for celebrities and companies worldwide on all kinds of different projects.
If you or someone you know owns a store, we invite you to order our line on Faire.  Just go to celebriducks.faire.com and you will not only get $100 off, but you will also get a year of free shipping and 60 days billing.  What's not to like!
I'll get out another newsletter once the ship arrives to keep you updated.  And as always, any questions or comments, write or call any time.
Sincerely,
Craig Wolfe
President
CelebriDucks
530-446-5231
www.CelebriDucks.com
9/15/22
Hi. I hope you had a nice Summer and I can tell you here in California, it has been a hot one.  I wanted to give a little update on what's happening here.  We have been busier than ever as more and more people seem to be finding out about us.  We got in our last container not that long ago and already some of those items are sold out!  The good news is that many of these sold out ones and new ones are hopefully going to be here later this Fall.
Bohemian Quacksody, The Donald, Tropical Squawk, The Love Float (previously called I Love Ducky), Duckin, Blue Suede Duck, Pond Bombshell, Material Bird, Say Hello to my Lil' Friend, The Godfeather, Birdo Marsh, Quackodile Flock, and On the Pond Again are due back in on that shipment  Unfortunately, before that container even gets here we will be sold out of even more ducks.
The Devil Duck and 101 Duckmations are close to being sold out and no idea when and if they will return as we just keep adding new ones.  Gene Simmons is also sold out now and not sure he will return.  Gene loves the ducks and KISS even gave them out as Christmas gifst one year.  They have been on his show Family Jewels many times.
The Wicked Witch, Peckin ' 9-5 (a big hit!), Breaking Bath, Spa Wars, Duckinator, Floating Dead, One Pond, Goosebusters, Sargent Peepers, are all getting very low.  I do have more Breaking Bath, Spa Wars, Goosebusters, Sargent Peepers, Peckin' 9-5, and One Pond on the upcoming container.
Many people wonder why we don't just make more of each style, but part of the problem is that even though we get the biggest containers available, we need so many different ducks that we can't fill the container with too many of any one style.  And since we have non-stop custom work for customers all over the world, we also need to get those jobs in there, too.
Our factory is working non-stop, but it's really hard to keep up with this volume. We also need to send containers to our European and Canadian distributors which adds to the production backlog.  Unfortunately there are still issues overseas with labor, Covid, and supply chain problems.  We try to do our best and I am very grateful that people love our products so much and that we keep growing.  I just wish we could keep up better with our production needs.
Our custom jobs are a lot of fun. We're Fanilows here so we were thrilled that Barry Manilow asked us to create a CelebriDuck of him for his fans!  We are also doing three new jobs for Knotts Berry Farm for their Boysenberry Festival this Spring and  new Woodstock collectibles for their Halloween and Christmas events next year.  Plus we have many other customers we are presently doing custom work for.
Silas Firth and his production company Standing Tid Productions created this beautiful little fifteen minute film which featured our Made in America SAM duck.  It was the winner of Best Production Design at the 2017 Attic Film Festival and also the winner of The Audience Choice Award at the 2017 Clean Shorts Film Festival. I think you will really enjoy it.  You can watch it by clicking on this link below:
https://vimeo.com/185279071?fbclid=IwAR1cke4SzT7l2imrQyzo0H6ysuXhFfWxCdHZz6S8s__qyt3Ra-yHOhqb8ws
We also continue to create new styles for our own line. I cannot wait for our Wing of Fire or as we say here, a Toy Named Sue, to arrive this Spring along with Joliet Drake of The Cruise Brothers. You would be amazed at  how many people are waiting for the Duck in Black to get here!!  Folks are also really excited about our Tropical Squawk which is in the upcoming container.  And we are working on artwork for Beakloaf, Bath out of Hell and  Patos Sun-Tan-A, Quack Mallard Woman to see how that looks. Please let me know what you think of these two potential ducks.
As always, write or call any time….always love hearing from everyone.
Sincerely,
Craig Wolfe
President
CelebriDucks
530-446-5231
www.CelebriDucks.com