Martha Stewart – American Made 2014 Nominee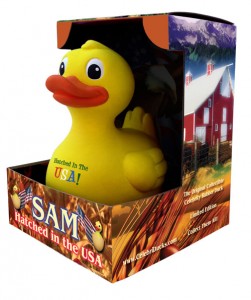 Yes, it's true…. the soft traditional yellow floating rubber duck was actually invented in America and he has finally come home!  We are the only rubber duck company doing all our artwork, sculpting, and third party testing in the USA on our whole line.  For the very complex ducks, we will do part of our final production at our two factories overseas.  However our new PVC and Latex Free Good Ducks are all made 100% in America.  We start in Ohio and then do all our final production in Michigan. You can read more of this story in the PVC Free section on the top of our website.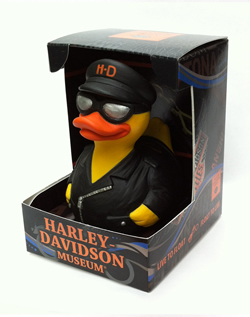 We were also creating rubber ducks for everyone from Harley-Davidson to The Future Farmers of America and you can even watch them making them at the factory below.  Sadly these more detailed American made ones are now on hold because the one remaining factory in the USA, who still knew how to make rubber ducks, was unable to stay in business.
We even did the first ever Loon race in American history with rubber Loons made in the USA for The State University of New York. And be sure to watch our video of our new 100% made in America Pork Chopper biker duck at: https://www.celebriducks.com/index.php/made-in-america/pork-chopper-video/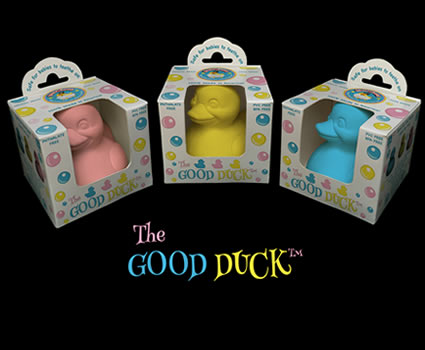 PVC, Phthalate, & BPA Free * Medical & Food Grade * 100% Made In The USA * Safe For Teething * Soft * Floats Upright * Completely Sealed * Recyclable * Latex Free * Paint Free * Comes in a very cute colorful gift box.
HOME FACTORY series that aired on HGTV and on A&E"s FYI Network. 
Silas Firth and his production company Standing Tide Productions created this beautiful little fifteen minute film which featured one of our Made in America SAM ducks. It was the winner of Best Production Design at the 2017 Attic Film Festival and also the winner of The Audience Choice Award at the 2017 Clean Shorts Film Festival.
Hatched in the USA! – Wall Street Journal
Name: Craig Wolfe Business: CelebriDucks Headquarters: San Rafael, California
Industry: Consumer Manufactured Goods Year begun: 1997
What was the challenge your business was facing as a result of the economy?
The floating soft rubber duck was invented in America. Now every one is made outside the U.S.. Rising prices, longer delivery times and quality-control issues were becoming a major factor in working in China and threatening the company. We decided to bring the industry back to America  where it all began in the 1800's.
 What was the innovative idea you put in place?
We were already the only U.S. company doing our artwork and sculpting here for rubber ducks. Now we were going to bring back the actual final production to America on our new lines. Everyone said it was impossible with labor costs and safety-law requirements. We were willing to take the risk!