How about a Rubber Duck Race with rubber ducks that are actually Made in America where the rubber duck was originally invented!! This is something we can offer with our new US factories. Please click on the Made in America link above to learn more.  Why not host a CelebriVents™ CelebriDuck Rubber Duck Race like our FlamingoFest,™ Green Regatta,™ or Penguin Palooza™?  Or, imagine a whole flock of floating Celebrity Ducks racing down the river!!  The PR value is amazing.
We offer so many different ways to create attention and raise money for your group with a wide variety of  options for Rubber Duck Races at all various price points. We really want to help you with your specific Rubber Duck Race to make it very special!
You can sell CelebriDucks, our unique collectible rubber ducks, to raise funds or host a CelebriDuck Rubber Duck Race. Each CelebriDuck comes in a beautiful custom gift box that can be used for display. With so many fun rubber ducks to choose from there is a CelebriDuck for everybody. Your customers will want to buy CelebriDucks for themselves and to give as gifts at the event. So you can make money both selling ducks and also by raising money with a CelebriDuck Rubber Duck Race. We get as much or more free PR than almost any other promotional item and can thus help promote your Rubber Duck Race too!
Fundraiser? More like FUN-RAISER!!
PVC, Phthalate, & BPA Free * Medical & Food Grade * 100% Made In The USA * Safe For Teething * Soft * Floats Upright * Completely Sealed * Recyclable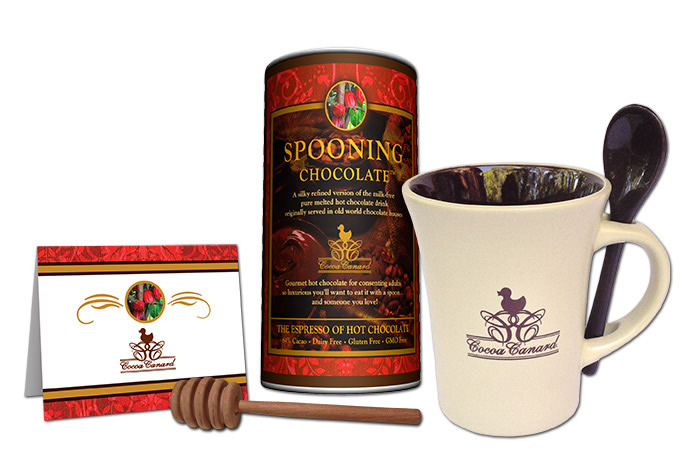 If you are tired of the same old fundraising products like candy bars, sausage, and cheese, so are your customers as they can get those anywhere. But now you have another way to help raise money for your school or organization.. For a really unique fundraiser, the espresso of hot chocolate is finally here.  Cocoa Canard's new Spooning Chocolate is the first dairy, gluten, and soy free pure non-bitter dark chocolate using Fair Trade Chocolate to instantly dissolve in a cup of hot water and taste and feel like it's in milk. It's silky refined version of the pure melted hot chocolate drinks originally served for centuries in old world chocolate houses.
Now you can enjoy a little cup of hot chocolate by itself as a wonderful afternoon delight or the perfect end to any meal. We call it Spooning Chocolate as it's so luxurious you can eat it with a spoon and with someone you love. The packaging is absolutely gorgeous and each can comes with a wooden mini-molinillo (South American whisk) to whip up a slight cocoa crema to bring out the flavors and enhance the ritual chocolate making experience. Please visit www.CocoaCanard.com to learn more.
Contact us for more information about how to turbo charge your fundraising efforts with CelebriDucks!
Phone: (707) 289-4000
Email: info@CelebriDucks.com