Celebrity Rubber Duck Collectibles and Custom Designs
CelebriDucks creates extraordinary rubber ducks for some of the world's most famous Celebrities. Our custom celebrity rubber ducks are unique in that they all come in their own high quality gift box which can tell your story and are engineered to float perfectly upright without letting in any water.
With their unsurpassed detail in our sculpting and painting, we are considered the finest rubber ducks on the market and the top custom rubber duck manufacturer in the world. We can also make almost anything, not just rubber ducks.  We make these fun and unique celebrity collectibles that people love for gifts or to add to their rubber duck collections.
We are reproducing famous people and companies who have spent their lives cultivating their image and their brand. They want to be represented in the most positive way to truly honor their accomplishments. They see their peers being honored by being part of the CelebriDuck line and thus can be assured that they, too, are in the best of company.
CelebriDucks rubber ducks also make a fantastic item for gift giving. There is a duck for all tastes and make an exceptional collectible which people love to own.
 Click below to download custom rubber duck letter
Word Document | PDF File | How To Make a CelebriDuck Rubber Duckie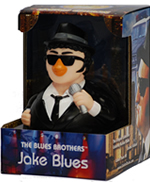 We created The Blues Brothers for the internationally acclaimed House of Blues.  They have been a huge hit with customers there for years and years.  If you would like to purchase Jake on our website, just  click here
Many people people just cannot leave there without buying a set.  If you wish to purchase Elwood on our website, just click here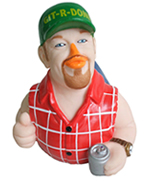 Larry the Cable Guy is a classic.  At his shows, people can buy the coolest merchandise and our rubber duck of him was a big hit!
We designed a Conan O'Brien CelebriDuck rubber duck for the launch of Conan's new show on TBS. We flew in 2000 of Conan rubber duckies that were given out to audience members the day of his first show. We matched the look of the rubber duck to the Conan duck in their TV commercial and it has become a highly sought after collectible. We made the deadline in record time and it was so successful we brought in a shipment of more Conan rubber duckies for a follow-up promotion!
DEVO.  This classic new wave band now has their own DevoDuck.  Quack that Whip!  Quack it good!  The response to this guy has been just fantastic as everyone knows their iconic look and of course their most famous song.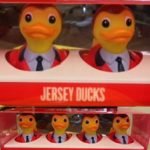 We created 2000 gift sets of The Jersey Boys celebrating the iconic story of the rise to fame of The Four Seasons in the 1960s.  They were created as Christmas gifts for the cast and crew worldwide of the tremendously successful Broadway Play.  And yes, they were a huge hit!
CelebriDucks can manufacture any kind of product whatsoever in addition to their amazing rubber ducks. They created 200,000 Will Ferrell poufs for a promotion for Proctor and Gamble's Old Spice division and NASCAR to tie in with Will Ferrell's movie, Semi-Pro.
Lisa Lampanelli We created a custom rubber duck for the Queen of Mean, Lisa Lampanelli. You may know her from her many appearances on Comedy Central, The Tonight Show, Howard Stern, and many others. She's also been part of the celebrity roasts of such people as Jeff Foxworthy and Pamela Anderson. These rubber ducks were available for sale on her website and personally autographed by Lisa until they all sold out!
We created a set of rubber ducks for Malaysia's top rock band, Bunkface. With numerous awards and top of the chart hits, the bands popularity has continued to soar as have the Bunkface CelebriDucks which quickly became some of the coolest and first ever pop art floating collectibles in Asia!