Promotional Premiums Custom Designs
CelebriDucks creates extraordinary rubber ducks for some of the world's most famous Franchises and Corporations. Our custom promotional premium rubber ducks and custom designs are unique in that they all come in a gorgeous gift box that highlights the story of your brand. They float perfectly upright and are sealed to keep out any water.
With their unsurpassed detail in our sculpting and painting, we are considered the finest rubber ducks on the market and the top custom duck manufacturer in the world. We can also make almost anything, not just rubber ducks.  Below you can see an example of our Wash Poufs that we created of Will Ferrell for the movie Semi-Pro.  We make these fun and unique items for our clients as a very popular promotional item that people cannot get enough of.
The amount of publicity which CelebriDucks rubber ducks receives is extraordinary and there are few if any promotional products that can get the publicity and exposure that our clients get with our products. We have been on NBC, FOX, CBS Evening Magazine(three times!), CNN, Showtime, A&E, ESPN, TNT, VH1, and most other television networks, not to mention Sports Illustrated, U.S. News & World Report, ESPN The Magazine, N.Y. Times, USA Today, LA Times, Maxim, S.F. Chronicle, Chicago Sun Times, Playboy, Fortune Small Business, and hundreds of other media outlets. We were featured on The Tonight Show twice and voted one of the top 100 gifts by Entertainment Weekly! Stories about our company appear virtually weekly both nationally and internationally. And we include the team or company we work with in all our ongoing PR.
CelebriDucks rubber ducks also make a fantastic item for fundraising. You can use any rubber duck we have in stock or we can create a specific custom rubber ducky just for your event. They are a great way to raise funds for schools, teams, non-profits, etc, and make an exceptional collectible which people love to collect.
Click below to download custom rubber duck letter
Word Document | PDF File How To Make a CelebriDuck Rubber Duckie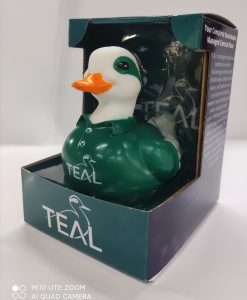 We created a rubber duck of the logo of Teal Technologies, who created a ground breaking AI solution to control all the utilities in commercial buildings.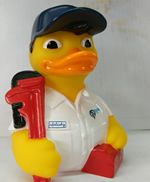 Wisler Plumbing –  Wislerplumbing.com – Virginia  – Wisler Plumbing came to us to create a custom duck for them to give out to their customers.  What plumber would not want one of these!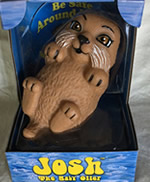 Josh the Otter was created for the JCMF Children's Charities for children around the world through the Josh the Otter and Float 4 Life programs.  Their mission is to educate children and adults worldwide about water safety through the utilization of drowning prevention campaigns & early childhood water safety training.  You can buy one at at their website by clicking here.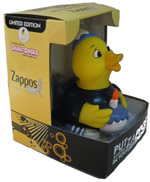 We created a custom rubber duck for Zappos, the largest retailer of shoes on the internet. The company is just amazing and was voted by Time Magazine as "one of the 25 sites we can't live without" and recognized in 2009 by Fortune Magazine as one of the "100 Best Companies to Work For. "Keeping with one of their core values to "Create Fun and a Little Weirdness", they chose CelebriDucks to create a custom rubber duckie to help celebrate employee birthdays.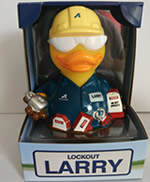 Accuform was founded in 1976 by Ron and Veronica Johnson, Accuform began as a small venture in Port Richey, FL. The original three-employee start-up has grown to a team of 280 people and counting. Now located in Brooksville, FL, the family-owned-and-operated company sells facility identification products to a network of distributors throughout North America, South America, and Europe.  We are creating a line of ten different ducks for them with a detail that is unequaled anywhere.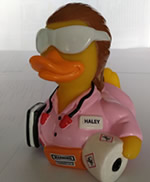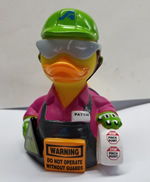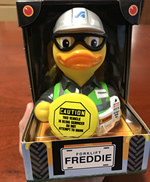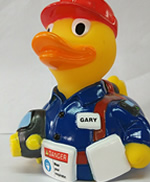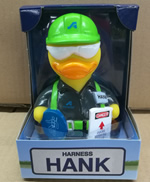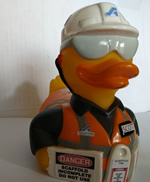 Specializing in custom safety signs, safety tags, safety labels, traffic safety, 5S lean manufacturing, and award-winning lockout/tagout devices, Accuform provides products and sales support to tens of thousands of customers worldwide. Accuform is the leader in visual communications for the workplace and has experienced sustained growth year after year since its inception.  These ducks have been a bit hit with clients and we are proud to making them for them.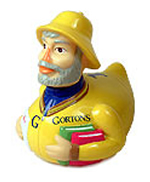 Gorton's Seafood, one of the oldest and largest frozen fish companies in the United States began a promotion for four months in supermarkets nationwide to promote their Gorton Fisherman CelebriDuck. It was the most successful promotion in their history!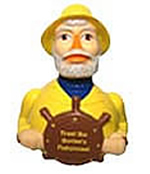 They then did a follow-up campaign with a new Gorton's Fisherman rubber duck featured on over one million packages. Needless to say it was a huge hit and they went though every duck they purchased as thousands of people sent in proof of purchase package labels to get one!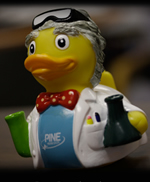 Wondering what ducks, electrochemistry and academia have in common?  Pine's Research's  proprietary instrumentation is used by scientists in research labs world-wide. Electrochemists, chemists who study the relationship between electricity and an identifiable change in a chemical solution, seek data results resembling the traditional voltammagram (or in layman's terms, duck). With notable resemblance to a duck, Pine Research Instrumentation brought the voltammagram to life as Dr. Reducks.  Named appropriately after "redox solution", this scientific wizard (duck) assists graduate students and researchers through social media, mainly his Facebook Page.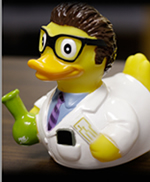 Dr. Reducks' popularity quickly became problematic requiring a PostDuck (postdoc), an academic term for one who professionally conducts research after the completion of doctoral studies (typically PhD).  More simply put, PostDuck is a young hipster assistant to Dr. Reducks.  And BOOM, that's how electrochemistry, academia and ducks are connected.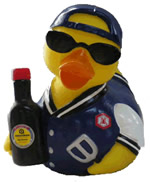 For our first promotion with Kikkoman, we created a baseball themed rubber duck that was given away at Kikkoman sponsored promotions at professional ball parks throughout the country.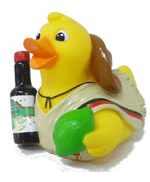 The Kikkoman promotion was so successful that they did another one to promote their new Ponzu Sauce.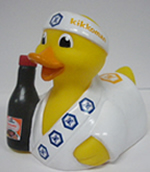 Kikkoman then went on to do a third promotion featuring a Sushi themed rubber duck showcasing their new Teriyaki sauce.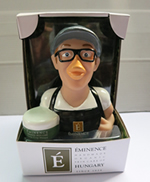 Éminence Organic Skin Care, an award-winning provider of the most effective, professional skin care products, is sold in leading spas in 50+ countries worldwide. We created a CelebriDuck of their amazing founder, Boldijarre Koronczay, who is a pioneer of the organic skin care movement.  Éminence melds more than 59 years of herbal craftsmanship, innovative skin rejuvenation techniques unique to Hungary and hand-picked ingredients to craft premium natural, organic, and Biodynamic ® skin care that is good for the earth and good for the skin.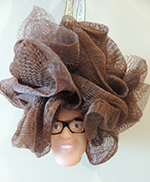 We also created a wash pouf of Boldijarre which people love. They're actually a Certified B Corporation®, the leaders of the global movement using the power of business to solve social and environmental problems, held to rigorous standards of performance, accountability and transparency for their employees, their community and their customers. They were voted "Favorite Skin Care Line" for 8 consecutive years by spa professionals and have devoted fans including Madonna, Cameron Diaz & Channing Tatum. And what's also so cool is that Éminence plants a tree for every retail product sold!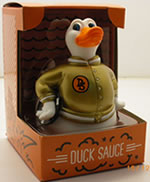 We created a this special duck which is the mascot of Fool's Gold Records, a very cool record company. Also, click this link to see the larger version in concert!! The first link is Australia, and the second is LA.
Duck Sauce Austraila
Duck Sauce Los Angeles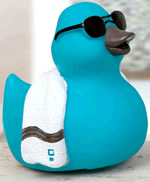 Proudly presenting:The Water Club CelebriDuck rubber duckie designed exclusively for The Water Club. Would you expect anything less from a hotel with five pools? The Water Club is a Signature Hotel by Borgata- Atlantic City's first boutique-lifestyle hotel combining elements of Borgata, while delivering a unique personality of its own…just like this great CelebriDuck! Of course all the Water Club rubber duckies sold out!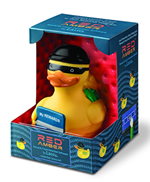 Employee abuse of rewards programs causes $4.7 billion in annual losses by retailers in North America and yet, until now, there's never been a company that was focused on that problem. But now there's a new software called Red Amber™, that is quite effective against this kind of abuse. When Lassu® Inc. launched the product, they worked with us to create this naughty "rewards bandit" rubber duck to support its annual trade show efforts in creating awareness among retailers about the new software.
Coastal Shower had us create this amazingly cute "doctor" of quality control rubber duck to give out to all their clients.  Their manufacturing operation is housed in the most advanced and efficient bath enclosure production facility in the world. The 250,000 square foot state-of-the-art facility employs over 200 professionals making it the largest shower door manufacturing facility in the USA!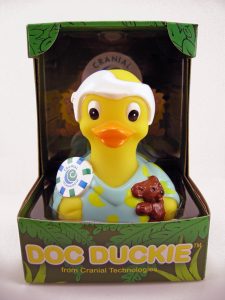 It was such a joy to create this Doc Duckie For Cranial Technologies.  These use their head bands to help babies and the children who wear them love having the rubber duck wearing one also!!
Circle Bank in Marin County, California had us create four fantastic limited edition collectible floating pigs for them. They were given out to people opening up new accounts. The gift boxes and the piggies look just amazing and float great. Here is our Peg E Banker!
Circle Bank also had us create this pretty lady called our Philanthropic Pig!
Our Circle Bank Eco Oinker was all about green and sustainability!
Here's Circle Bank's Super Saver. Circle Bank now has some of the most unique and whimsical bank collectibles on the market. Who says Banks can't be fun!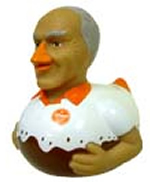 We created the Doc Wilkenson rubber duck for the famous Wilkinson Hot Springs in Sonoma County, California.
No, it's not Dr. Phil.  The Hennessey Funds is a very successful financial advisor group in California who has a CEO with a great sense of humor. Every year he creates himself as a new art piece for all his clients worldwide. This year he chose this fabulous detailed CelebriDuck!
The Port of Long Beach is one of America's premier seaports and a trailblazer in goods movement and environmental stewardship. To connect with the community, they had us develop a Cargo Boat for them that would float perfectly upright with extraordinary detail.  They give them out at their community outreach events.  The boat is truly a work of art that we are very proud of
Giftcard Zen is Arizona's #1 fastest growing tech company. They help people save money by exchanging their unwanted or unused gift cards for cash while helping others save money buying those same cards. Their transparency, accessibility, speed and trust really distinguish them from the competition and is shaking up their industry! This is the duck we created for them.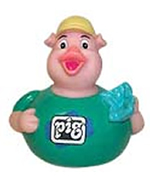 We created Sparky the Pig for The New Pig Corporation, considered by many the top company in the world for products that deal with leaks, drips, and spills. And what's so unique about them is that they are totally into creating all these cool pig themed promotional products to market their brand that their customers love!