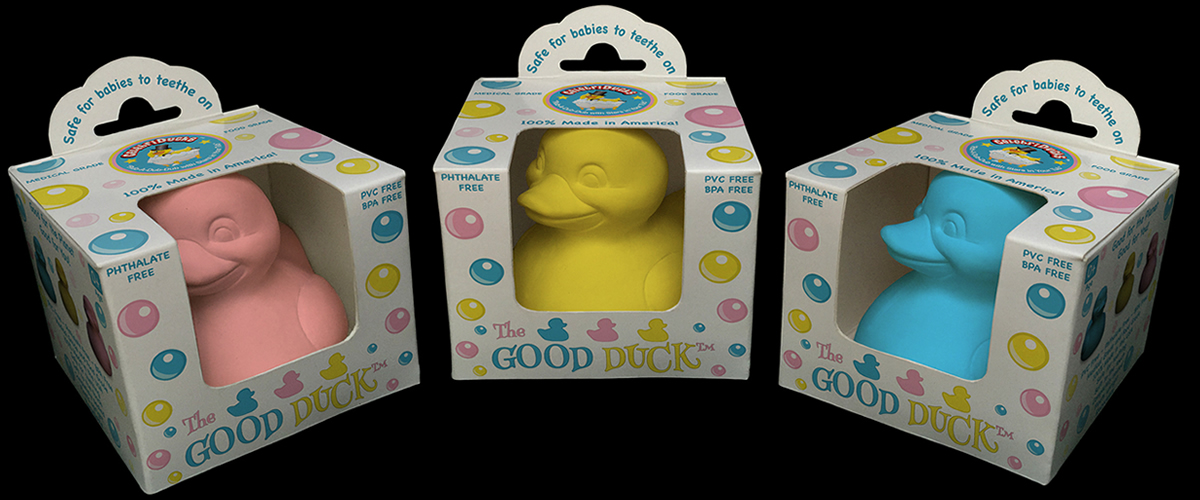 SURPRISE! THE SAFEST RUBBER DUCK FOR A BABY IS NOT MADE OUT OF LATEX
Savvy parents know they should avoid baby teething toys with toxic chemicals. They think they have found a safe alternative in natural latex rubber. This is surprisingly not the case as latex allergies can occur with repeated exposure to latex. Cleveland Clinic states that "children are not born with latex allergies. A latex allergy develops as one is exposed to latex numerous times in items like diapers, bottles, nipples, and pacifiers. Children allergic to one substance are more likely to develop allergies to other things as well.
The Mayo Clinic Latex says that allergy symptoms can range from mild to severe (from mild redness and rash to throat swelling and difficulty breathing). They also caution that "a reaction can become worse with each additional latex exposure," and that one should "prevent an allergic reaction to latex by avoiding rubber toys. 
Dr. Mayank Shukla, voted the best Asthma doctor in New York City and featured in The New York times, NY Post, and NY Times Magazine, remarked that "An allergic reaction occurs after you become allergic, or sensitized, to proteins in the latex.  In other words, prolonged exposure to natural rubber latex will almost certainly lead to a latex allergy. Your body will identify the latex as a harmful substance, triggering antibodies in the immune system to release histamine and other chemicals into the bloodstream."
Boston Children's Hospital recommends that "careful avoidance of latex products may decrease the chances of your child developing a latex allergy. A child who develops a latex allergy can go on to develop an allergy to food items which have similar compounds to latex such as avocado, banana, chestnut, kiwi, and other fruits. Some companies claim to wash out the allergen proteins in latex, but the FDA states that no latex rubber product can claim to be 100% latex allergen free.  
Aside from allergies, there are other problems with natural latex rubber. Rubber will easily degrade and discolor over time with water use due to the fact that rubber is a very porous material which means that mold can more easily penetrate the surface of the rubber. Also, a number of rubber ducks have a hole in the bottom of the duck which makes it very hard, if not impossible, to get water out of the inside causing black mold to grow inside.
Many rubber ducks do not float upright at all and are very rough to the touch, especially for a baby. Even other PVC free rubber ducks that are not made out of latex have issues as they are often made from questionable materials which small like chemicals, have peeling paint, do not float upright, and are as hard as a rock.
So why did we try and build a better duck? We became convinced that there were no rubber ducks on the market which were safe enough for very young children to put in their mouths. Our Good Ducks are considered by many the world's safest rubber ducks, and the only ones, that a baby should ever teeth on. All of our manufacturing, design, and 100% of the materials are made in the USA. It is PVC Free, Phthalate Free, and BPA Free using the highest quality USA third party tested food and medical grade materials available. Each duck also comes in a cute gift box which is also 100% made in America.
Most people are unaware that the rubber duck was actually an original American invention before the whole industry moved overseas. We are proud to be the only company making them here in the USA once again. With a rubber duck made by an American company, parents can more easily have confidence in US manufacturing without the constant safety issues with products that are manufactured elsewhere.
The Good Duck  won the BEST GREEN TOY AWARD  from Dr. Stevanne Auerbach, "Dr. Toy", one of the world's leading authorities on children's toys who approved the first grant for The Children's Television Workshop, "Sesame Street" when she worked in Education for the federal government. 
GOOD DUCK BENEFITS
Duck and gift box 100% made in America
Latex free to prevent latex allergies in young children
PVC Free – Phthalate Free – BPA Free
Made from the safest USA third party tested food and medical grade materials
Perfect size for babies to hold and teeth on
Completely sealed to keep out water so never any mold issues
Soft and smooth to the touch which babes love
Always float upright
Odor free – no latex or chemical smell
Paint free to prevent paint chipping off and being ingested
Top shelf dishwasher safe
Recyclable
Perfect baby shower gift
Available in vibrant Pink, Blue, and Yellow
Hi there….we just wanted you to know that our daughter LOVES her Good Duck! We can't even have it be a bath toy as she wants to hold it ALL the time! She is 8 months old, and it is her favorite toy. She even falls asleep holding onto it! We are going to buy another one in blue that is going to be a "just for baths!" toy. Thanks for making this safe and fun product that our little girl LOVES!"
Sarah and Luciano
Hi Craig,
I wanted to let you know that the duck arrived. It is absolutely awesome! The design is both charming and fantastic. Best of all, it ACTUALLY floats! Wow! After being so disheartened and discouraged by previous purchases from other companies, I'm so thrilled! Thank you for designing such an excellent product. This is going to be a go-to recommendation for friends and gift for friends' baby showers. Thanks again!
All the best,
Clare  
You can purchase them here:  https://shop.celebriducks.com/category-s/37.htm
"We have empirically tested the Good Duck and find it is both huggable and mouth-able See pics below, thanks again! Jennifer"
 

"I thought you might like these pics since Maya is wearing a USA onesie!  Bath time or not, Maya puts the duck right in her mouth and loves chewing on it. It's stays soft and definitely retains its shape and floats in her bath.  Thank you!"….. Sara