CelebriDucks creates extraordinary rubber ducks for some of the world's most famous Professional Sports Franchises and Corporations. Our custom rubber ducks are unique in that they all come in their own high quality gift box, float perfectly upright, and never let in any water. With their unsurpassed detail in our sculpting and painting, we are considered the finest rubber ducks on the market and the top custom duck manufacturer in the world. We can also make almost anything, not just rubber ducks.
Please click on the drop down links to see examples of all the different products which people love including our custom sports promotional items, made in the USA promotional line, popular celebrity rubber ducks, retail promotional items, and our custom promotional premiums.
CelebriDucks rubber ducks also make a fantastic item for fundraising. You can use any rubber duck we have in stock or we can create a specific custom rubber ducky just for your event. They are a great way to raise funds for schools, teams, non-profits, etc, and make an exceptional collectible which people love to own.
Click below to download custom rubber duck letter and how to make a CelebriDuck
Word Document | PDF File | How To Make a CelebriDuck Rubber Duckie
Allen Iverson Rubber Duck
Philadelphia 76ers sponsored by Reebok

Ben Wallace Rubber Duck
Detroit Pistons sponsored by Chevrolet

Boomer Rubber Duck
San Diego Padres farm club

Bubbles the Cow
Cow's Ice Cream

Charles Barkely Rubber Duck
Philadelphia 76ers sponsored by Subaru

Cliff Robinson Rubber Duck
Detroit Pistons sponsored by Palace Locker Room
ESPN ran a poll on their website for the fan's favorite stadium give-a-way. CelebriDucks rubber ducks won the poll beating out Bobbleheads, Beanie Babies, Pez Dispensers, Lunch Boxes, and Match Box Cars! Gorton's Seafood, one of the oldest and largest frozen fish companies in the United States began a promotion for four months in supermarkets nationwide beginning February 2004 to promote their Gorton Fisherman CelebriDuck. It was the most successful promotion in their history and they sold out of all their rubber ducks.They are also did a follow-up campaign with a new Gorton Fisherman rubber duck on over one million packages. This brings countless people to our web site who discover our other custom rubber duckies and creates numerous PR opportunities to mention all the new CelebriDuck rubber ducks that we are working on.

Derek Jeter Rubber Duck
Columbus Clippers

Doc Wilkenson Rubber Duck
Wilkinson Hot Springs

Gorton's Fisherman
Gorton's Seafood

Horace Grant Rubber Duck
Orlando Magic

Jason Giambi Rubber Duck
New York Yankees

Jim Thorne Rubber Duck
Cleveland Indians

Lisa Lampanelli
We created a custom rubber duck for the Queen of Mean, Lisa Lampanelli. You may know her from her many appearances on Comedy Central, The Tonight Show, Howard Stern, and many others. She's also been part of the celebrity roasts of such people as Jeff Foxworthy and Pamela Anderson. These rubber ducks were available for sale on her website and personally autographed by Lisa until they all sold out!
Most rubber ducks have a hole in the bottom which allows water in so the rubber duckies never float correctly not to mention they are not sanitary. We seal up the bottom of every rubber duck. So many rubber duckies lean or float on their side. You can toss a Celebriduck rubber duck off a bridge and it will pop upright as it has been engineered to be one of the best floating rubber ducks available. With the recent concerns spotlighted by the media and environmental groups regarding questionable materials used in making vinyl's, CelebriDucks has created it's rubber duckies to meet all safety standards worldwide to produce what we feel is one of the safest and highest quality rubber ducks on the market.

Kenny Jonsson Rubber Duck
New York Islanders sponsored GreenPoint Bank

Kerry Topotowski Rubber Duck
Quad City Mallards

Kevin Garnett Rubber Duck
Minnesota Timberwolves sponsored by US Bank

Our beautiful packaging adds a very elegant look to the whole presentation of our product and gives a sense of real value for the consumer. Our letter on the back of each container describes the collectibility of CelebriDucks rubber ducks which we can customize for each client. CelebriDucks are produced as limited editions which make them extremely popular as collectibles. New celebrities are always being added while others are quietly retired to the pond with graceful dignity. This ground floor collectible has the staying power to become one of the most unique collectibles in years and all our client's CelebriDucks share in the prestige of being part of this line.

Kristian Huselius
Florida Panthers sponsored by Office Depot and Sun Sentinel

Michael Peca Rubber Duck
N.Y. Islanders

Mike Bellotti Rubber Duck
Oregon Football Coach sponsored by the University of Oregon and Pepsi

Mike Keenan Rubber Duck
Sponsored by Office Depot and Sun Sentinel

Moises Alou Rubber Duck
Chicago Cubs sponsored by Gatorade

Mooche Nooris Rubber Duck
Houston Rockets sponsored by Southwest Airlines
Our rubber ducks have been sponsored by companies such as Reebok, Dr. Pepper, Gatorade, AOL/Time Warner, Southwest Airlines, Arby's, Adidas, Mountain Dew, Chevrolet, Sprite, Dodge, Clarinex, Suburu, Pepsi, Office Depot, Toyota, Sierra Mist, and many others at promotional sporting events.


Mugsy Rubber Duck
Salem Avalanche sponsored by Valleydale

Northern Illinois Huskies Rubber Duck
Northern Illinois University


Pudge Rodriguez Rubber Duck
Texas Rangers sponsored by Clarinex

Raymund Philyaw
Indianapolis Firebirds, sponsored by Dr Pepper

Roberto Luongo Rubber Duck
Florida Panthers sponsored by Office Depot and Sun Sentinel

Rusty Greer Rubber Ducky
Texas Rangers sponsored by Dodge
The amount of publicity which CelebriDucks rubber ducks receives is extraordinary and there are few if any promotional products that can get the publicity and exposure that our clients get with our rubber duckie. We have been on NBC, FOX, CBS Evening Magazine(three times!), CNN, Showtime, A&E, ESPN, TNT, VH1, and most other television networks, not to mention Sports Illustrated, U.S. News & World Report, ESPN The Magazine, N.Y. Times, USA Today, LA Times, Maxim, S.F. Chronicle, Chicago Sun Times, Playboy, Fortune Small Business, etc. We have been on The Tonight Show twice and voted one of the top 100 gifts by Entertainment Weekly! The press only continues to build with more and more stories about our rubber duckies coming out about us both nationally and internationally. And we include each team or company we work with in all our ongoing PR. See our Media page for a glimpse at the coverage our rubber ducks receive.

Sean Casey Rubber Duck
Cincinnati Reds sponsored Mountain Dew
Shane Battier Rubber Duck
Memphis Grizzlies sponsored by First Tennessee Bank

Shawn Marion Rubber Duck
Phoenix Suns sponsored by Sprite
What is unique with CelebriDuck rubber ducks is that the team or corporation is creating something which will get tremendous press exposure – both in their region and nationally. The press rarely covers the average promotion, but a CelebriDuck rubber duckie is much different as evidenced by the tremendous press sensation of our events. The media is still doing stories about our events even after it has finished while it is often picked up nationally on TV, radio, and in newspapers and magazines all over the country.

Sheryl Swopes Rubber Duck
WNBA Houston Comets

Sparky Pig Rubber Duck
fNew Pig Corporation

Splash
Myrtle Beach Pelicans

Steve Francis Rubber Duck
Houston Rockets

The Six Pack – Kobe, Shaq, Lamar Odom, Andre Miller, Adam Dead marsh & Jason Allison
Sponsored by Team LA, Staples Center & LA Times


Tuffy
Ashland University sponsored by Ashland University
The whole idea of the rubber duck being artfully blended to also look like a celebrity is what makes a CelebriDuck rubber duck so special. It is far different than an ordinary little yellow rubber ducky with a logo imprinted on it. Due to our brand awareness and the quality, detail, and presentation which people associate with CelebriDuck rubber ducks, any other rubber duck would meet with the inevitable comparisons by the media and fans of a lesser promotional item versus a very stunning original being used by the top professional teams in the country.

US Marine Corps
United States Marine Corps

Yao Ming Rubber Duck
Houston Rockets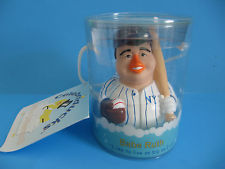 Babe Ruth 
New York Yankees
In addition to everything mentioned above, one of the most important and critical benefits of the CelebriDuck rubber ducks is that we always make our deadlines! The turn-around time to produce the quality product we did for a number of our events was quite short. We understand that to miss a promotional deadline by so much as one day would be both an embarrassment and major disaster. Thus, we can be counted on to never miss a deadline with our rubber ducks and to never compromise on quality to make that deadline. There is no monetary value for this kind of guarantee – it is priceless! Our manufacturing capability and quality control are excellent. Often in a shipment of promotional give-a-way items or any items for mass market from overseas, many of the items are defective with bad painting and bad quality. It is a lot of rushed work put out the door at an inexpensive price. With CelebriDuck rubber ducks, it is just the opposite. Most every Celebriduck rubber duck is a work of art in pristine condition. We spare no expense in production and have a system of checks and balances and quality control that is very effective to ensure that no fan or customer will ever go away disappointed.

Cheese Quacker
Available exclusively at: www.cheesequacker.com
We are reproducing famous people and companies who have spent their lives cultivating their image and their brand. They want to be represented in the most flattering way to truly honor their accomplishments. They see their peers being honored by being part of the CelebriDuck rubber duck line and they can be assured that they, too, are in the best of company. Our clients rest easy knowing that the person we have created a likeness of will have the highest quality reproduction available, something which is greatly appreciated by both the celebrity as well as their fans.