CelebriDucks – Scream Rubber Duck soon to be released
FOR IMMEDIATE RELEASE 6/06/09 Contact: CraigWolfe 415-456-3452 info@celebriducks.com www.celebriducks.com

SCREAM RUBBER DUCK RETURNS TO THE BATH TUB. BE VERY AFRAID!
San Rafael, California – May 26th, 2009 – CelebriDucks, the original creator of the first ever celebrity rubber ducks of the greatest icons of film, music, athletics and history is re-releasing their new Glow in the dark Scream rubber duck which has been one of their most popular selling items.
The duck is your classic rubber duck, but now dressed up in a black hooded robe while wearing a Scream mask and holding a knife.  CelebriDucks president, Craig Wolfe remarked that " this was our first foray into the horror genre and people absolutely loved it.  Anyone wanting to make nighttime bathing a tad more frightening will not be disappointed!"
The company is best known for their line of celebrity ducks including The Wizard of Oz, Barack Obama, Marilyn Monroe, Elvis Presley, and KISS among hundreds of others. The company created a Tropical Parrot, complete with Hawaiian shirt and shades, for The Jimmy Buffet Margaritaville Cafés, and successfully sell their Blues Brother's ducks at all House of Blues venues nationwide. They also recently broke new ground by creating the world's first ever floating Pink Flamingo which debuted at The Flamingo Hotel in Las Vegas.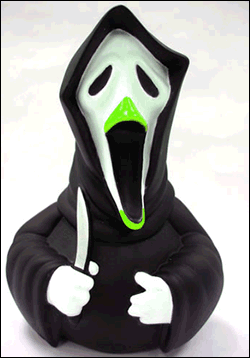 CelebriDucks has produced ducks for the NBA, Major League Baseball, the NHL, Collegiate Mascots, and NASCAR. The company has pioneered a whole new collectible and to date their ducks have appeared on numerous TV shows including The Tonight Show with Jay Leno, CBS Evening Magazine, and Late Night with Conan O'Brien. CelebriDucks were voted one of the top 100 gifts by Entertainment Weekly.
Their rubber duck collectible limited editions can be viewed at https://www.celebriducks.com