Gene Simmons and his CelebriDuck
The Peabody Duckmaster Celebriduck makes its television debut on a segment of Gene Simmons Family Jewels.
In a recent episode of Family Jewels, Gene was the honorary Duckmaster at the Peabody Hotel. Our Peabody Duckmaster CelebriDuck collectible is presented to guests and sold at the hotel.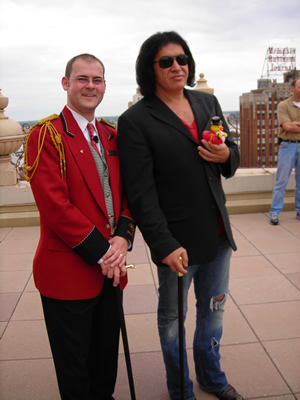 Gene was given one our custom rubber ducks and sources say that he carried his with him the whole time he was at the Peabody Hotel.He was spotted carrying the Duckmaster even as he was leaving the hotel.In addition to the popular Gene Simmons Rubber Duck CelebriDuck, Gene seems to have found himself a new friend in the Duckmaster duck.

Many happy bath times to Gene from the creators of Celebrity Rubber Ducks.
Click here to visit the Peabody Hotel and read more about The Legend of the Ducks.Straight from Peabody Hotels – Our Custom Rubber Duck CelebriDucks – The Peabody Duckmaster

How did the tradition of the ducks in The Peabody fountain begin?

Back in 1933 Frank Schutt, General Manager of The Peabody, and a friend, Chip Barwick, returned from a weekend hunting trip to Arkansas. The men had a little too much Tennessee sippin' whiskey, and thought it would be funny to place some of their live duck decoys (it was legal then for hunters to use live decoys) in the beautiful Peabody fountain.

Three small English call ducks were selected as "guinea pigs," and the reaction was nothing short of enthusiastic. Thus began a Peabody tradition which was to become internationally famous.

The original ducks have long since gone, but after 75 years, the marble fountain in the hotel lobby is still graced with ducks. Today, the Mallards are raised by a local farmer and friend of the hotel. The ducks live in the hotel, coming down to the fountain every day from their penthouse suite until they are full grown and, on retirement from their Peabody duties, are returned to the wild.

The Peabody ducks march through the lobby twice a day coming down on elevator led by the a guy dressed up a little like our duck called The Duckmaster at 11 a.m. and 5 p.m. daily.