Why, after all, would you want to make a rubber duck that looked like a person, anyway?
Answer:

Because it is a multi-million ducky idea.

When I first had the idea of writing a guide to CelebriDucks, I knew I wanted to get the story straight from Craig.  You are about to discover the history of the CelebriDucks phenomena from its founder, and in his own words. Craig also wanted me to express a simple hope for the readers: "If you get anything out of this story, I hope it is the inspiration to follow your dreams."

And, maybe, that's really the takeaway from all of this. Craig pursued an idea that he really couldn't explain, and it turned into a path for success. Maybe having the courage to pursue your dream will work out that way for you, too. As they say in basketball, you miss 100% of the shots if you don't take them.

– Chris Johnson

 Available on Kindle at Amazon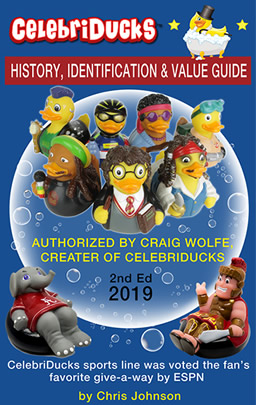 Available on Kindle at Amazon – or digital PDF Instant Download 
To get the ebook or a digital version, there are three options:
Click here to buy from Amazon, Kindle edition.
Click here 

to purchase a downloadable .PDF version from the Author's web site to download to your computer.

Check with online bookstores – Search for CelebriDucks history, value guide or by author Chris Johnson, on various online bookstores.
If you need any assistance to get your copy, please contact us.