New Website Launch and Easy to use Duck Store!
Dear Friend, Hope you had a nice Halloween. I am really happy to announce that we just launched our new website www.celebriducks.com. When you go there, you will notice a whole new look including a whole separate Duck Store to make it much easier to order. It is soooo much easier to pay and check out now…you'll see! One thing is that since we are using a whole new newsletter mailing program on our site, if you would like to continue receiving our newsletters, please do sign up for our newsletter on the new site. We'll try and send the next couple to both the old and new mailing list, but hopefully most folks will be able to sign up again to make sure not to miss any updates.
And speaking of updates….the new first edition Thriller Michael Jackson CelebriDuck is here. He is currently our best selling duck and I have to say, I have never seen more dynamic packaging in my life on any of our products. The same with Mr. Green, the world's first recycled green duck and Cocoa Canard, our chocolate themed duck. They are now all in stock and present some of our finest packaging to date. Pictures cannot prepare you for how amazing they actually look in real life.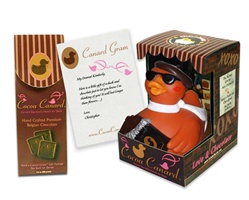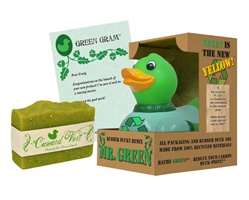 And now you can send CanardGrams of our fine Belgian Duck Chocolates along with our Cocoa Canard rubber duck and a personalized note to anyone anywhere. The same goes for our new GreenGrams where you can send our Mr. Green recycled duck along with our new Canard Vert natural soap and a personalized note on recycled paper as a very unique green gift. You can see all this on our site.
My ex-mother in law who I am still very close with, was watching Who Wants to be a Millionaire on ABC recently. Lo and Behold one of the questions was, "CelebriDucks, a company in California makes rubber ducks of celebrities. For $500, which celebrity duck did they create that has nunchuks. Was it Humphrey Bogart, James Dean, Bruce Lee, or Woody Allen?" The contestant go it right and you can actually view it on our blog. We actually have had a great deal of PR with a lot more to follow with the launch of our new products. Meetings and Conventions Magazine featured our ducks along with Glamourquotient.com on the Glam Mom page. Jon Lovitz's charity features a silly walk-a-thon in LA and an auction where we just sent 60 ducks to to help support his work. Not sure if reading about my life is something everyone would choose to do, but this very cool website assign's a writer to document your life and then saves it on their site. You may want to do this to preserve all the precious memories of your life, too. If interested, You can read my story at:  Story Of My Life. Collectiblescornertv.com did a nice interview with us. And what is really nice is that Tammy is going to work on a CelebriDucks price guide which is something people have asked us about for years. Of course Tammy is waiting for me to provide all the info and this is a project which I have started, but is going to take some time. Some of my favorite music people are the number one KISS tribute band, SF Destroyer. These guys are amazing. I swear they look more like the real KISS than KISS does. Check them out at: www.sfdestroyer.com. The site may still be in the midst of being revised, but they have a fabulous pic of the band with the whole KISS set of our four ducksI I did this really fun interview with Lisa Kanarek at www.workingnaked.net which you can read on our blog. She is one of the nation's leading home office experts and the founder of HomeOfficeLife.com, a firm that advises corporations and individuals on all aspects of working from home. In fact Howard Stern read about her and had her on the show and hired her to help to organize his life. Lisa has been a guest on several national programs including Good Morning America, CNN Financial News, CBS Up-to-the-Minute and CNBC and featured in hundreds of publications including The Wall Street Journal, The New York Times, Newsweek, Success, Money, Entrepreneur and Kiplinger's Personal Financial magazine. As you know, we have Bruce Lee as part of our line. I think one of the most amazing videos I have ever seen is of him playing ping pong with his nunchuks. It is mind-blowing. Check it out on our blog. I can guarantee you have rarely seen anything like it. A wonderful lady, Laura Silverthorn, who has become a good friend has a website for Single CEO's. Check it out. She was kind enough to put my interview in her favorites.  Single Startups I did an interview with a very very cool guy, Valyn, who does this fantastic internet radio show that gets millions of hits a month called The Mad Hatter. www.madhattershow.net. His wife was actually the first one to ever dress up as Dr. Franknfurter in New York at the screenings of the Rocky Horror Picture Show. I think you know the trend that began from there! Of course I had to send her a Franknfurter duck. And finally, Tammy Lessick does some wonderful work in helping to raise awareness of Autism at http://www.autismlearningfelt.com. She did a nice review on our product line. So that's the news for now. I hope you can check out the new site and the new ducks as I do feel it represents some of our finest work. Please always feel free to contact me at any time. I love hearing from you. Sincerely, Craig Wolfe President CelebriDucks