RuPond Debuts at DragCon New York!
We are known for creating spectacular rubber duck for clients all over the world.  Jason Crook came to us to create a line just for his business to debut at DragCon.  To be honest, this is not my world at all, but I'm always learning here about what's out there!  For those who aren't familiar with Rupaul's DragCon, the event itself is a spectacle to behold- it's a magical drag Disneyland open to all ages, with thousands of drag enthusiasts from around the world together under one roof for a three-day event that features more than 150 of the world's top drag queens (many of whom are RuPaul's Drag Race Alums).  The New York convention is at the Javits Center, and this year's impressive line-up included notable queens like Brooke Lynn Hytes, Mimi Imfurst, Nina West, Silky Nutmeg Ganache, Trinity the Tuck, Trixie Mattel, Vanessa Vanjie Mateo, and Yvie Oddly.  Mama Ru was also on hand, treating the crowd to live DJ sets on the main stage both Saturday and Sunday!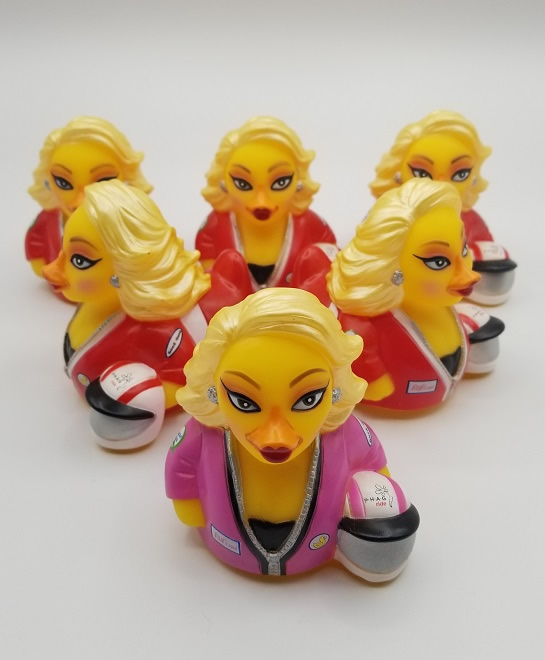 In addition to attending panels and meet and greets, VIPs at this year's convention were treated to an exclusive main stage performance by Trixie Mattel where she did an amazing cover of RuPaul's hit "Kitty Girl," and an even more impressive cover of Nicki Minaj's "Anaconda."  But, I would have to say that the real star of this year's convention was their RuPond- Duck Race, the Limited Edition, tongue-in-cheek parody duck that pays homage to the most iconic Queen in herstory!  Over the last year, Philadelphia Home Art Garden (PHAG) and Celebriducks have been collaboratively designing a series of PHAG drag collectible ducks, and this fall, RuPond- Duck Race made her debut on the Pink Carpet at DragCon NY!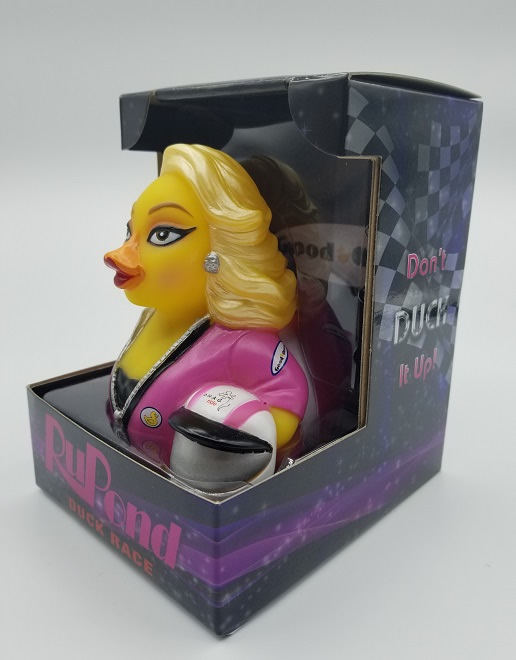 The original Limited Edition design is dressed to win in a signature red and white race suit and a DragCon Convention Exclusive version was also developed with the avid collector in mind.  She's wearing a pink and black race suit and is a one in six rarity!  Both are available, while supplies last, exclusively at www.thePHAGshop.com!
Before the close of a specquackular weekend, RuPaul announced a new DragCon UK coming to London in January, 2020.  Perhaps that's just the incentive RuPond will need to cross the pond in the New Year!