New Elvis Presley Rubber Duck Floats Into Graceland!
San Rafael, California – May 26th, 2009 – CelebriDucks, the original creator of the first ever celebrity rubber ducks of the greatest icons of film, music, athletics and history is releasing their new Elvis Presley Gold Lame rubber duck to coincide with the 32nd anniversary of the passing of one of rock's greatest legends this Summer.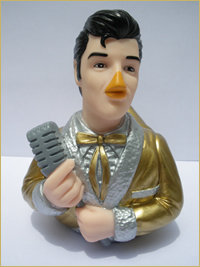 This is the third Elvis CelebriDuck the company has done and features Elvis in his famous gold lame outfit. CelebriDucks president, Craig Wolfe remarked that "the detail on this new edition is extraordinary.
With the previous success of our two Elvis Presley limited editions that sold out so quickly, this give people the opportunity to own one of these beautiful collectibles which reflects some of our finest work to date."
Click here for complete press release and hi-res photos of this collectible, limited edition Elvis rubber duck.
To be sure to reserve and pre-order your Elvis rubber duck, email us at info@celebriducks.com