Rubber Duck Characters & Their Friends
Meet the winner of the POND BOMBSHELL CelebriDuck. Donna was the first one to leave her review for the new edition of the 
CelebriDucks History, Identification & Value Guide 2019 (2nd Edition).
Donna was sent a signed, prototype from the private pond of Craig Wolfe, the creator of CelebriDucks.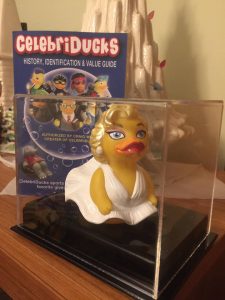 My name is  Donna Eads, owner of Scout's Meadow Natural Soaps, LLC , and I am a hand-crafted soap maker from Forest Hill, Maryland.  After 31 years of employment with our local government,  I retired on my 50th birthday and started my little company  – Scout's Meadow Natural Soaps.  I love making soap and my customers seem to love it too!  In addition to my soap, I also like to carry unique items for the bath and that's where CelebriDucks entered my life. 
While on a family vacation in Disney, we visited The Boathouse in Disney Springs.  I walked in and bumped right into the most beautiful display of ducks I had ever seen.  As I looked thru them, each  one was better than the one before it.  But I didn't buy any at that time because my suitcases were packed to the max.  Funny thing – I came home from a Disney vacation and cruise, and the first thing I think is "I gotta see where I can get those ducks."  After looking at the website, I called to inquire about a wholesale order and left a message.   Who calls me back – none other than Craig Wolfe, the owner of CelebriDucks!  I have restocked with 3 wholesale orders so far, and must say this company is great!  Craig is so nice, so easy to work with, and so passionate about his ducks!  I am so happy to carry them and not only are they a great complement to my soap, they are actually an eye-catcher at my vendor events!  Customers love these ducks!
And to top this all off, I have won the prototype of The Pond Bombshell signed by Mr. Wolfe. This was all possible just for giving a review of the Celebriducks History and Price Guide book. If you sell or collect these ducks, the guide is a must have! See my review here. 
 Available on Kindle at Amazon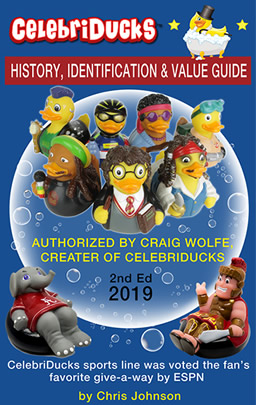 Available on Kindle at Amazon – or digital PDF Instant Download 
To get the ebook or a digital version, there are two options:
Click here to buy from Amazon, Kindle edition.
Click here 

to purchase a downloadable .PDF version from the Author's web site to download to your computer.
If you need any assistance to get your copy, please contact us.