The Queen of Soak – Coming Soon
We're always looking for classic Costume Quackers to add to our line.  I also really love adding female ducks as there are so few out there and the ones that are on the market are not all that appealing.  
So here's our newest one, The Queen of Soak that we hope to have here this Winter.  We work so hard to come up with a great concept and then trying to find the best way to bring that concept to life.  Many, many ideas are considered as there are always different way to go in terms of creating the look you are going for.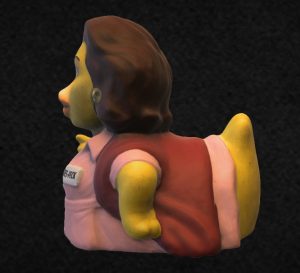 It is never an easy process and once you have your ideas on which direction you want to go , then it is up to the maestro, Chris, to bring it to life in a sculpt…..that's right….an old fashioned three dimensional clay sculpt the way it was done traditionally before computers and 3-D printing!
I can almost here this duck singing, "R – E – S * PECK, bath time is the place to play!"  The key to our line is trying to inject personality into our designs.   There are so many bland rubber ducks out there that just don't offer the creativity that makes you want to stand up and sing.   But when we look at the finished version and feel how much people will delight in them…now that makes all the difference!