LifeGoesStrong.Com Interviews CelebriDucks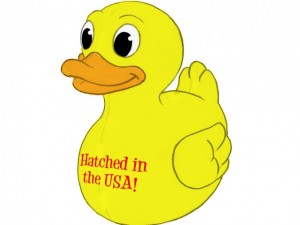 Life Change: Getting Rich Making Rubber Duckies
Craig Wolfe  had already owned one successful company. For his encore, he wanted to create the product he would sell.
By: The Aging Diva
November 22, 2011
CelebriDuck's fanciful creatures are big sellers.Source: Courtesy of CelebriDucks
Craig Wolfe is proud to be bringing production of his rubber ducks back to the States, where the first rubber duck was made.
He already had a successful business selling animation art to collectors, but at age 45, Craig Wolfe was bored. "Okay, I was the largest marketer of animation artwork of the Budweiser frogs and the Coke bears. But I didn't create them, I just sold and re-edited their artwork. I wanted my own creation."
The time was right. Wolfe could see that the market for animation had peaked. He had a fanciful idea for his next act: rubber ducks, but with a twist. His version of the classic bath toy would bear the likeness of cartoon characters, politicians, celebrities and historical figures.
His venture didn't start off with a bang. "I called King Features, which owns the rights to Betty Boop. The woman there thought I was crazy. It was one of those phone calls we've all had where they're trying to get rid of you. She said, 'Make one and then we'll talk,'" Wolfe recalls. He called her bluff and did just that. King licensed the imagery and Betty continues as one of CelebriDucks' best sellers.
Wolfe also got a fast education in how complex making a simple toy could be. "I had to fabricate them in China, a galaxy far, far away. There were issues about floating, because our ducks have bigger heads. Hardness of the plastic. Packaging." You name it, there were lots of hurdles to overcome.
The effort was rewarded. CelebriDucks exploded after an Atlantic City paper followed up on a press release Wolfe sent out. The Philadelphia 76ers read the story and called wanting a CelebriDuck of superstar Allen Iverson. "We did that duck. The cornrows, the tattoos, the earring, everything was perfect." The Yankees called, and the Cubs. So did companies as diverse as Reebok, Southwest Airlines, Pepsi and Subaru. "We flew in 2,000 ducks for the launch of Conan O'Brien's new show."
In a good year, CelebriDucks ships more than 100,00 ducks.
That was two decades ago. Now Wolfe, 59, is broadening the business, with a line of Canards sold with chocolates. But the initiative Wolfe is proudest of is bringing manufacturing back to America.
"The rubber duck was invented in America. We're bringing it back. We have a factory in Ohio that will make a line of Hatched in the USA ducks. Eventually, they'll make all of our ducks. To bring an industry back here is without a doubt one of the most important things I have ever been a part of."
Wolfe's Rules for Success
Have patience. This is Wolfe's cardinal rule. "You should create something great. I believe that if you build it they will come, but it takes time."
Count your money right. "It's not how much money you make, it's how much you keep. Overhead will destroy you. Work out of your bedroom. People think I spent $10,000 on my website. I spent $500."
Outsource, outsource, outsource. Don't add staff too quickly. "Let the business push you to the next level. I outsource 99% of what I do. I work out of my house in Marin, everybody else is scattered all over the world."
Get feedback. "Don't sit in a vacuum. Take the people you least want to talk to and get their feedback. In my company, everyone has carte blanche to talk to me about anything."
Fail well. "Wasn't it Churchill who said the key to success is going from failure to failure without losing enthusiasm. Failure helps you fine-tune, come out stronger. And remember that many great brands got started in some of our worst economic times."